Colour plates formatted: 10.5 × 14.8 × 0.3 cm
Material: polypropylene
Three levels of thickness – 0.3 cm, 0.2 cm and 0.1 cm – show each colour at different levels of opacity
Three different surface textures – high gloss polished, VDI 24 and VDI 42 – show users the colour dependent on surface roughness
The protective sleeve for each RAL P1 PLASTICS sample contains master batch code, colormetric measures, absolute values, reflectance curve, distance to the plastics original standard
All RAL P2 colours are available as single plates. Cool teal, juicy leaf green, earthy ochres, brilliant berry hues and delicate lilac – have added a range of new colour statement options to the plastics palette. We have handpicked the 200 new RAL P2 colours from the internationally renowned RAL DESIGN System used by architects, designers and product designers. Colour designers in the world of plastics will be able to implement their colour concepts with a wider range of options using RAL P2. Innovative, surprising product statements can easily be translated into the perfect colour language with RAL P2.
(RALp2)
Be The First To Review This Product!
Help other RAL Colours Australia users shop smarter by writing reviews for products you have purchased.
More From This Category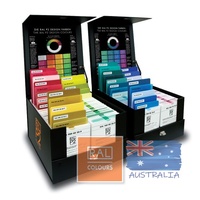 $3,340.00
From $30.80