100 RAL CLASSIC colours
Plastics colour sample format: 10,5 × 14,8 × 0,3 cm
Material: polypropylene
Three sample thicknesses show the colour fully opaque and in various opacity levels: 0,3 cm, 0,2 cm and 0,1 cm
Three different surfaces allow you to interpret the colour in relation to roughness: high gloss polished, VDI 24, VDI 42
Includes reflectance curve, absolute values and the divergence from the RAL PLASTICS original sample
Protective sleeve for every plastics colour sample
100 colours from the RAL CLASSIC collection were translated into a dedicated RAL plastics standard using a sophisticated technical process – these being the 100 colours that people most often request.
The RAL PLASTICS colour samples are multifunctional and offer many benefits in practice. Three different surface textures and three different material thicknesses give users a realistic impression of how the colours will look when used with different material applications.
Polypropylene was intentionally chosen for RAL PLASTICS. It is a mass-produced plastic that is used in many finished products because of its balanced properties and excellent value for money. In addition to its technical characteristics, this plastic is easy to use for a wide variety of manufacturing procedures, and is also compatible with numerous dyes.
(RALPLASTICP1BOX)
Be The First To Review This Product!
Help other RAL Colours Australia users shop smarter by writing reviews for products you have purchased.
More From This Category
From $30.80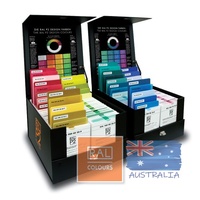 $3,340.00